As the entire world attempts to normalize from 2020 into 2021, life continues. My family and I have previously entered our third year of living in the southern region of Spain. We are especially jolly during the month of February because in the United States of America, this month is when the history of African Americans are commemorated and honored. My husband and I teach our children that although Black History Month is observed in the month of February, we celebrate our black history every day. However, Black History Month is a celebration in which I have always enjoyed, even as a child growing up in the south of USA. Now that we live in another country which lacks knowledge of this tradition, I feel more appreciative and sentimental about it. Black History Month is not just a common holiday nor observance as it has become in the United States. It has become more important for us to teach our children to embrace our culture as they are encouraged to learn the ways of a new one. I want my brown babies to never take our culture, traditions and special commemorations for granted.
Last year, for the first time my children and I had the honor of sharing our Black American History with their school, Colegio Salesianos Nuestra Sra. del Carmen-Utrera. Each of my children chose an African American influencer to present to their class. Our youngest daughter, little Abi presented Dr. Mae C. Jemison, the first African American woman to ever travel to space. Aaron introduced Stevie Wonder, one of the most prominent Black American figures in popular music during the 1970-1990s. Amari propounded Dr. Martin Luther King Jr. – one of the most well-known and respected Black American activists in the 1960s. The school even allowed my sister and I to visit as we both helped with the children's' presentations. It was an amazing feeling to be able to share a very important part of our black American culture with the school.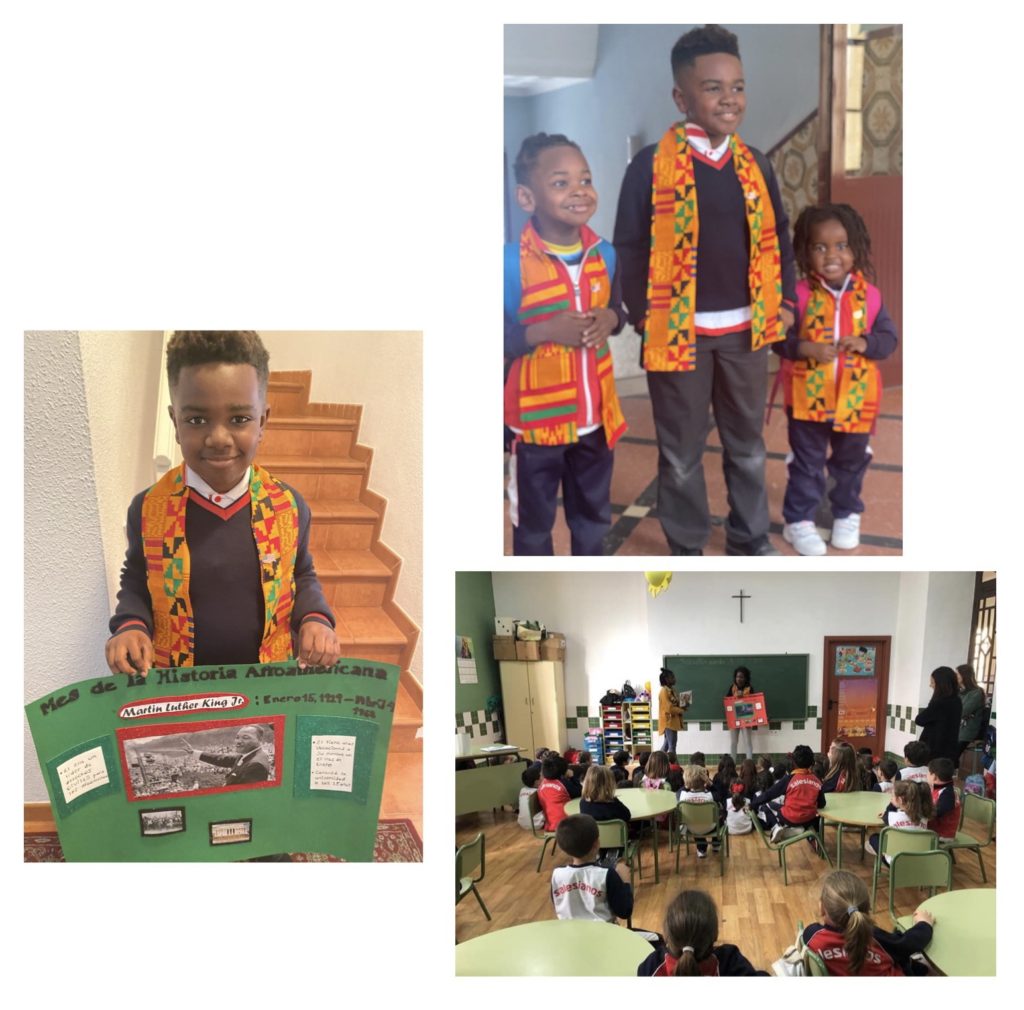 But, in February 2021 things have become a little strange. Many people resume to be nervous about the Covid-19 virus as all children are mandated to wear masks every day to school. These new regulations have been a little rough as well as hard to adapt to. Nevertheless, most people seem to be pushing through the abrupt change. With that being stated, I had to think of a way for my children to be able to honor our culture in spite of the COVID-19 restrictions. I then thought about the Afro-American liberation flag which possess various names and versions: The Pan-African flag, the Black Liberation flag, and UNIA flagare just three examples of many. The African American flag is a tri-color flag consisting of three equal horizontal bands of redbeing the first, then black and green; positioned from top to bottom. The Universal Negro Improvement Association and African Communities League (UNIA-ACL) was officially adopted on August 13, 1920. This League brought upon the desire to possess our own flag as Black Americans. Variations of the flag can and have been used in numerous countries and territories in the Americas to honor the ideologies of Marcus Garvey.
Marcus Garvey was a prominent Jamaican activist and founder of the universal Negro Improvement Association and African communities league. I bare little objection to the ideologies of Marcus Garvey, but as a black American woman I personally identify more with the contemporary version of the Afro Americans liberation flag. I believe that the original USA flag is a clear representation of America as we are Americans no matter our past roots. We are Black Americans with both Native American and African ancestors. Therefore, the contemporary UNIA Black Liberation Afro-American flag is what I primarily connect with over all others. Yet, I felt the need to teach my children about both of the flags because each color represents the same meaning. Red is for the blood of our ancestors that was shed on the grounds throughout the nation. Black represents the unity of all people of color internationally. Green represents the abundant natural wealth of the motherland Africa.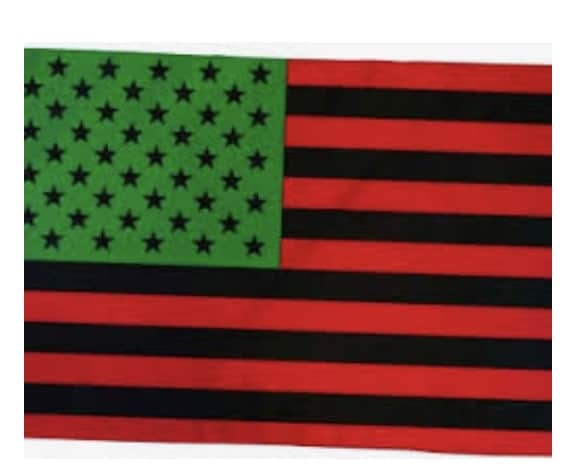 Last year the children wore dashikis to school with African print. But this year I wanted them to learn about our Black American flag and how they should be proud to bare it. Therefore, I went to the fabric store in town and bought red, black and green fabric. My idea was to use the fabrics to make dashikis for the children to wear to school along with a small poster project explaining what Black history month is, as well as introducing our African-American liberation flag. Not only were they learning about their flag, but they would also be displaying this flag in school. Meanwhile, I still needed to find a seamstress to make the dashikis and I knew the perfect person. Ms. Beni, my next-door neighbor. As you subscribe to my website and read my book excerpt, you will understand how special of a neighbor Ms. Beni is: https://authorjoyeglenn.com As stated in the book, she is an older wise Spanish woman and has always shown my family and I kindness. When I approached Ms. Beni about making the dashikis, she seemed honored to be making something so special for a culture she lacks knowledge of. After struggling to explain my expectations to Ms. Beni in Spanish, I suddenly saw the assurance on her face. I stopped as she interrupted my ranting with a promise to have it done just the way I wanted. The next week Ms. Beni came to deliver the dashikis. They were absolutely perfect and beautiful! When the day arrived for my children to wear them, I only needed to iron them and pin them on. I was so grateful for Ms. Beni, for she took the time out of her schedule to do a special and honorable act for my family and I. The children and I then made their projects of the African American flag. The next day, Amari, Aaron and Abi all presented their projects to their class as they wore their beautiful dashikis. Watching my children brought tears to my eyes as I was very proud to witness to my children's pride in themselves and their culture. They each seemed extremely excited to share a piece of their history with their classmates. My son's teacher even mentioned how my first-grader, Aaron did an amazing job presenting and how his entire class applauded him after he finished. My hope is that each child whom experience these unique endeavors, will remember what they have learned from my children and our history. That one day they will grow and understand the importance of learning about other people as well as various different cultures, history and traditions other than their own. In closing, I have come to the realization that our Black History Month celebration is more important to the evolution of my family and I, as we embark upon this new life in a foreign land. I will continue to make it my duty to ensure my melanated children never forget whom they are and where they derived from. Therefore, it will be my task as a mother to commemorate Black History month with my children every year during our time in Spain.
Have any questions or comments? I welcome you to leave them below!